Cream tea is a traditional English afternoon meal consisting of tea and scones served with clotted cream and jam.
The first recorded cream tea was served in Devon, England in 1879. The meal typically consists of a pot of tea, scones, clotted cream, and jam.
Although the tradition originated in Devon, it quickly spread to other parts of the country and is now enjoyed by people all over the world.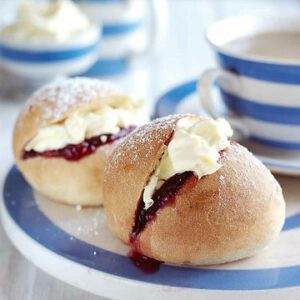 What Are The Different Cream Teas?
We offer two variations of the classic cream tea: The Devon version, which includes a Devonshire drop scone, and the Cornish version, which uses a Cornish split scone.
For the Devon version, we serve a pot of tea with two odd-sized teapots – one large pot for brewing and a small pot for pouring. We fill the small pot with milk, which we pour into the cups first to prevent curdling when we add the hot tea.
The Cornish version, which is famous for its split scone (cut in half), clotted cream, and strawberry jam.
While the tradition of cream tea is rich, we offer limitless variations of dishes to suit your taste. But, without question, the must-have ingredient in any legitimate cream tea is clotted cream.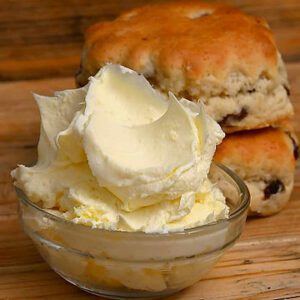 What Is Clotted Cream?
We slowly heat milk to form a thick layer of cream on the surface, then remove the cream from the milk.
Subequently, we chill it and allow it to thicken further, resulting in a thick, creamy dairy product.
Clotted cream is what gives cream tea its characteristic rich and creamy flavour.
If you're ever in Devon or Cornwall, be sure to try out clotted for yourself… preferably smeared over a tasty fresh scone!
Clotted Cream Recipe
Devon clotted cream is the most important ingredient of any cream tea, and indeed any afternoon tea meal. If you want to do things the hard way and churn your own cream, this is how to create the thick, luxurious stuff all by yourself
Homemade Clotted Cream
We use a long, slow cooking method to toast the cream, imparting a sweet nuttiness that you won't find in any other preparation.
The name may not sound appealing, but the flavor and texture of our clotted cream is legendary. Spread it on warm biscuits or scones and top with homemade jam for a delicious treat.
Prep Time: 5 mins – Cooking Time: 12 hrs – Resting Time: 8 hrs – Total: 20 hrs – Serves: 8
Ingredients
Preheat the oven to 80 degrees Celsius

Pour cream into a shallow baking dish. When poured the cream should be 3-4cm deep.

Bake the cream for 12 hours. Do not stir or agitate the dish. Once cooked gently remove from the oven and cool to room temperature.

Once at room temperature, clingfilm dish and refrigerate for at least 8 hours.

One cooled pull aside some of the top layer of thickened cream and carefully pour liquid into a container.

Pack newly clotted cream into a ceramic jar. Cover and refrigerate for up to 5 days.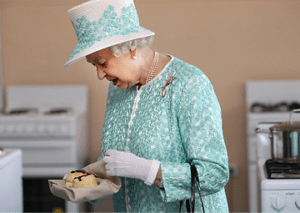 Did The Queen Like Cream Tea?
Yes, the Queen did like cream tea. Her Majesty often enjoyed it with other members of the royal family, including Prince Phillip.

Whilst traditionally served with scones, cream and jam, some of the royals allegedly prefer to have it with biscuits or cake.
Afternoon tea is a cherished part of British heritage that even extends to the Royal Family.
What Is The Difference Between Cream Tea And Afternoon Tea?
Want to know the difference between cream tea and afternoon tea?

Both meals typically consist of tea and scones. However, afternoon tea is usually a more formal affair. This larger meal of the two can also include finger sandwiches and other small pastries.
Cream tea is a more relaxed affair where friends can gather and chat over a cup of tea and some scones.
A light meal compared to the afternoon tea but more versatile and can comfortably be slipped in between regular mealtimes.
What Is The Difference Between Devon Cream Tea and Cornish Cream Tea?
There are two main types – the Devon cream tea and the Cornish variety.
The Devon version come with a scone, clotted cream and strawberry jam.

The Cornish version varies a little in that it comes with a scone and savoury pasty instead of a scone with cream and jam.
Who Makes The Best Clotted Cream?
In south-west England there are countless traditional cream churners who deliver the world's best and most authentic clotted cream.

The most popular makers of clotted cream include Rodda's, Lynx and Trewithen.Rodda's is the most popular clotted cream brand in the UK, followed by Lynx and Trewithen.
These brands are found in cafes and restaurants that serve afternoon tea all over the world.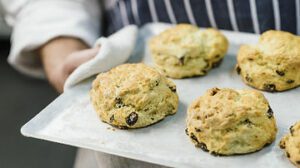 Who Bakes The Best Scones in the UK?
There are many excellent scone bakers in the UK. Many of the best are located in Devon and Cornwall.
In Devon, The Old Forge Tea Room in Bideford is a leading scone baker. In Cornwall, The Cornish Bakery in Padstow is the place to visit for an equally good scone. There are many other great scone bakers in other parts of the UK. Other good ones include The Olde Swan Inn in Gloucestershire and The Elephant & Castle in London. The Olde Swan Inn is known for their delicious scones with a crispy crust and a soft centre.
The Elephant & Castle is popular for their savoury scones with cheese and chutney.
What Is The Best Devon Cream Tea?
Want to know where to get the best Devon cream tea? Popular spots include Angels Tea Room in Torquay, The Old School Tea Rooms in Ilfracombe, and Tasty's Cafe in Bideford.
Angels Tea Rooms is known for its large, fresh scones and generous portions of home made cake and sandwiches. The Old School Tea Rooms serves up yummy scones with lashings of fresh cream and strawberry jam. Tasty's Cafe offers a variety of different teas, including gluten-free options.
What Is The Best Cornish Cream Tea?
Looking for a delicious Cornish cream tea? Head to Poldark Mine Tea Room in Bodmin or Trethorne Leisure Park near Launceston.
Poldark Mine Tea Room is well-known for their amazing scones with big chunks of Cornish clotted cream on top. This is about as good as the Cornish variety gets.

Trethorne Leisure Park offers six different types of afternoon tea, including one that comes with ice-cream! There are many different places in Cornwall that serve great afternoon teas. Some of the best places in Devon include The Old School Teashop in Combe Martin and The Granary Tea Room in Ilfracombe.
Some other good places in Cornwall include The Ship Inn in Port Isaac and The Smugglers Inn in Padstow.