Garden Cafe Brighton – The Amazing Stanmer House
If you're looking for a charming cafe in a beautiful garden cafe in Brighton, Stanmer House is the perfect spot. This Brighton institution offers fresh, seasonal food and stunning views of the Sussex countryside.
Whether you're stopping by for breakfast, lunch or afternoon tea, you're sure to enjoy your visit at Stanmer House. Tucked away in the picturesque village of Stanmer, yet just a stone's throw from Brighton city centre, this hidden gem offers a unique dining experience in a beautiful and historic setting. The Grade I listed building and its stunning grounds are home to the prettiest garden café Brighton has to offer.
The garden café is open every day and serves a range of delicious meals made with fresh, locally sourced ingredients. The breakfast menu features classic English breakfast options, as well as lighter options such as granola and yogurt. The lunch menu features a variety of sandwiches, salads, and hot meals, including a traditional Sunday roast. And for those looking for a more formal dining experience, the café also serves afternoon tea, complete with a selection of sandwiches, scones, and pastries.
The café also offers a beautiful outdoor seating area where you can enjoy your meal in the sun. The terrace is surrounded by lush greenery and is the perfect spot for a summer's day. The café also provides blankets for those chillier days.
In addition to its delicious food, the café also boasts a wide selection of teas and coffees, as well as a range of local ales, wines, and soft drinks. This makes it a perfect spot for a casual catch-up with friends, a romantic date, or a family gathering.
Overall, Stanmer House's garden café is a must-visit for anyone looking for a unique and enjoyable dining experience in Brighton. With its beautiful setting, delicious food and great service, it's the perfect spot to enjoy a meal in the sun or a cozy afternoon tea.
This venue is rightly considered one of Sussex's best dining and private hire venues.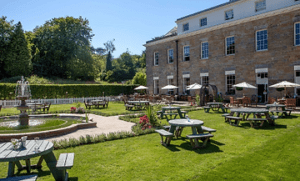 The House and Gardens – Stunning Garden Cafe in Brighton

Stanmer House was built in 1722 for the Duke of Newcastle and has been home to a number of notable residents since the 18th century.
These include the famous Earl Grey after whom Earl Grey tea is named.
The house was damaged by fire in 1828 and lay derelict for many years before being restored to its former glory by Brighton Council in the 1950s.
Today, the house is open to the public and hosts a variety of events throughout the year, from afternoon tea dances to art exhibitions.
Stanmer House is the perfect place to relax for an al fresco bite to eat after a stroll around the grounds.
The Best Garden Cafe Brighton Has To Offer
The garden cafe at Stanmer House is a popular destination for breakfast, lunch and afternoon tea.
For decades the House has been one of the most popular wedding venues near Brighton.
It's located in a stunning Grade I Listed building that was previously home to the Earls Of Chichester.
This lovely outdoor dining spot is open all year round, serving fresh, seasonal food from local suppliers.
All bread, cakes, scones and other baked goods served at Stanmer House are made the old-fashioned way in the House's own traditional bakery.
The menu features a wide range of items, including vegetarian and vegan options. This charming outdoor cafe also offers a selection of gluten-free dishes.
In addition to the main menu, the cafe also offers a daily specials board bringing further variety to its customers.
What Is Stanmer Park Like?
Stanmer House is sited in the heart of the expansive 200 acres of Stanmer Park. This Georgian park is a green retreat that offers a tranquil escape from the city bustle. With the University of Sussex campus just a stroll across the park away, Stanmer Park offers a unique blend of nature, history, and academia.
From our outdoor garden cafe seating, you can soak in the breathtaking panoramas of the surrounding countryside. It's the ideal backdrop for savoring a leisurely meal with loved ones, enveloped in the serene ambience of the park. Whether you crave a light snack or something more wholesom, our diverse menu caters to every palate and preference.
For the health-conscious, our menu boasts a delightful array of nutritious options. Enjoy the pleasure of dining without compromising your wellness goals. On balmy days, our expansive garden beckons, inviting you to dine amidst blooming flowers and exotic trees. Experience the joy of al fresco dining at its best in one of the most picturesque garden cafes in Brighton.
Welcome to Stanmer Park, where every visit is a gastronomic journey framed by nature's exquisite canvas in the South Downs National Park.
What To Eat At Stanmer House
Stanmer House's garden is an extremely popular spot for afternoon tea.
There is simply no better outdoor breakfast cafe in Brighton to enjoy alfresco dining.
You can sit in our formal gardens and eat anything from traditional scones and jam to proper English Fish and Chips.
And if you come on a Sunday, you can even sit in the garden whilst tucking into one of our famous roast dinners.

Whatever you decide to order, you can sure of getting top-class food in the most lovely surroundings in the area.

Our garden cafe is also one of the most dog friendly restaurants Brighton has to offer, so there's no need to leave your furry friend at home when you come to visit.
With its beautiful setting, historic premises and delicious food, it's no wonder that Stanmer House is such a popular spot for both locals and visitors alike.
Experience the ultimate garden cafe in Brighton at Stanmer House.

How To Get To Stanmer House and Our Garden Cafe

Stanmer House is a country house in every sense but many first time visitors can't believe quite how close it is to central Brighton.
For most, the best way to get to Stanmer House is by car.
It's easy to reach from anywhere in Sussex with the A27 runs right past Stanmer Park.
Also, there is a large car park next door so you won't have to worry about finding a parking space.
If you're coming by train, the nearest station is Falmer Station which is only minutes from Brighton Station.
Then, it's just a short walk to Stanmer House from there.

There are also regular buses that run from both Brighton and Lewes.
Finally, if you're feeling adventurous, you can always walk or cycle. Stanmer Park is a beautiful place to explore. It's only a few miles from both Brighton and Lewes and set in the South Downs National Park.
Other places of note in Stanmer Village include One Garden Brighton and Stanmer Tea Rooms, which are both worth a visit. Stanmer is also home to Stanmer Church, which is a beautiful property in its own right.
Rebuilt in 1838, there has been a church on the site since the early 1200's and adds to the charm of these classic English surroundings.